Creative Problem Solving and Collaborative Innovation
Overview
In our turbulent world, problems facing organizations are much more complex than ever before. In a highly interactive workshop, participants experience new skills in finding, defining and solving problems and opportunities individually and collaborating with others for innovative solutions with consensus and commitment to implement.  The methodology, called "Simplexity Thinking" is simple, experiential and inclusive and has been applied successfully in small and large organizations globally to tackle complex situations of all kinds. This unique workshop focuses on learning how to ask the right questions as well as developing innovative answers. Opportunities are provided for participants to share their different experiences and ideas about their own real world problems, learn from each other, and walk away with fresh insights to apply immediately.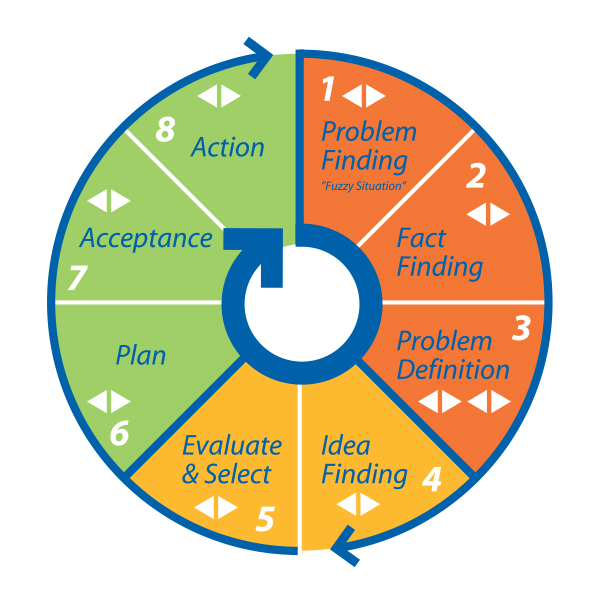 Participants will discover their own unique problem solving style, learn how to value the styles of others,   and practice working with team members of different styles to achieve best results. This is especially important because so many people at every level and organization are implementers, and resisting the desire to jump to the solution without thinking through the problem first is vital.  Several case study examples are shared throughout the session illustrating the value of deliberately following the problem solving process and not "leapfrogging ahead".
Participants are immersed in a safe learning environment supported by expert coaching to deepen the experience and maximize the impact.  They are facilitated in engaging in a creative problem solving process with interconnected skills and tools which build the following:
Confidence and a willingness to tackle problems and engage others
Transparency and respect for others
Building consensus on problem definition , solutions and implementation
Bridging language and cultural gaps within teams
Workshop Objectives & Outcomes
At the end of the course, participants will learn:
Individual and team problem solving skills at a concrete, person-to-person, table-top level.
The art and science of creative and critical problem solving for innovation
Your own unique problem solving style.
How to define a workplace problem identifying root causes and impactful objectives
How to  create and evaluate unique alternative solutions  to your work problems
How to engage others in problem solving with commitment to implement
How to work in teams in a more inclusive, faster and innovative way.
Tutor Profile
Nivine Rushdy, MBA
Ms. Rushdy is an experienced Human Resource Management professional with over 25 years of management experience – more than 15 years of experience in managing recruitment and selection, compensation and benefits, training and development and employee relations functions.  She has a unique experience in building a human resources management infrastructure within the fast moving consumer goods industry, the telecom industry and outsourcing human resource business process consultancy and re-engineering services to major local and international companies in the Egyptian and international market.
Ms. Rushdy has started her career in the hotel industry, then she moved to the Coca-Cola Company of Egypt in the capacity of Group Recruitment Manager.
She has shared in her capacity as HR Director in the establishment and launch of the first 1200 seats call center in Egypt (Xceed) outsourcing customer care services to Europe and the USA in 9 languages.
Ms. Rushdy was the Human Resource and Administration Manager of Middle East Glass Manufacturing Company.  She has been in charge of a major organization development project in line with the company strategy to double the production capacity during 2009.
She joined Etisalat Egypt late 2009 in the capacity of Head of Talent Management.
Ms. Rushdy is currently the CEO of The Human Capital company "HC" for HR shared services and outsourcing.  Also, she is an accredited instructor at the HR Diploma program (run by the American University in Egypt and the Edinburgh Business school MBA program sponsored by the AUC Management Center), a certified assessor from SHL, and a DDI certified.
Nivine holds a B.A. in Economics and a Diploma in Human Resource Management from the American University in Cairo.  She has an MBA from the British Edinburgh Business School (Heriott Watt University).
Investment:
EGP 775
Special Offer:
Register and submit fees before the 30th of June, and get 10% discount.